Instrument Flight Procedures includes the design, implementation and use of instument flight procedures for all phases of flight in the vicinity of an aerodrome, as well as the transition to and from en-route airspace, and associated procedures. The domain also encompasses new capabilities such as performance-based navigation (PBN) as well as the emerging requirements for increased accuracy, the use of automation, the need for quality assurance and the consideration of environmental issues in instrument flight procedure designs.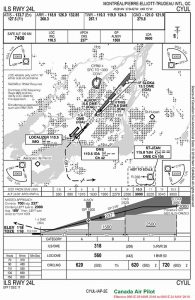 DEFINITION OF INSTRUMENT FLIGHT PROCEDURES
In short, an instrument flight procedure is the description of a series of predetermined flight manoeuvres by reference to flight instruments, published by electronic and/or printed means (Eurocontrol, 2016).
It is a published procedure used by aircraft flying in accordance with the instrument flight rules which is designed to achieve and maintain an acceptable level of safety in operations and includes one or more of the following: an instrument approach procedure, a standard instrument departure (SID), a planned departure route and a standard instrument arrival (STAR) (IAA, 2020).
Instrument approach procedures provides the horizontal and sometimes vertical path(s), depending on the procedure, to the Decision Altitude/Height (DA/DH) or Minimum Descent Altitude/Height (MDA/MDH). If visual contact has not been acquired at that point, a Missed Approach Procedure (MAP) is initiated. These approaches are of two main types: 2D and 3D approaches. 2D approaches only provide lateral guidance, leaving the pilot with the decision regarding a suitable Rate of Descent (ROD) to achieve a Continuous Descent Final Approach (CDFA). 3D approaches provide both lateral and vertical guidance so the pilots can compare their flight path to a Course Deviation Indicator (CDI) and a Glide Path (GP) indicator (OSM Aviation Academy, 2020).
What falls under Instrument Flight Procedures?
According to the Instrument Flight Procedures Panel (IFPP), the following areas of expertise are an integral part of instrument flight procedures (ICAO, 2014):
new instrument flight procedure (IFP) design criteria to address improvements in air navigation, evolving aircraft capabilities and new operational concepts;
instrument flight procedure oversight requirements;
harmonization of charting criteria, databases, and avionics systems guidance with IFP design standards;
elements of instrument flight procedures that are enablers for the facilitation of an efficient communication between ATC and Flight Crews;
necessary amendments (maintenance) to existing instrument flight procedures provisions: ILS, MLS, LPV, LNAV/VNAV, LOC, VOR, NDB, etc.
---
For more information, visit one of the following WIKIFATCA pages:
Last Update: September 19, 2020
October 27, 2019 1673 superman
WIKI