Air traffic is growing at a significant rate. There is also an increasing demand for more operating flexibility to improve aircraft efficiency and to reduce the impact of air travel on the environment. Improved tools are required to safely manage increasing levels and complexity of air traffic. Aeronautical surveillance is one such important tool in the air traffic management (ATM) process. (ICAO, 2020)
As far as air traffic control is concerned, the following section offers an overview of the most common ground-based surveillance technology and equipment:
Ground-Based Automatic Dependent Surveillance-Broadcast (ADS-B)
Automatic Dependent Surveillance-Broadcast (ADS-B) is a discrete, near real-time air traffic surveillance system. The system automatically pulls data from aircraft equipped with an ADS-B transponder – requiring no pilot or external input – and regularly broadcasts it for detection by ATM providers and other airspace users.
Space-based ADS-B
While ADS-B receivers have traditionally been located on the ground, these ADS-B sensors are now located on low earth orbiting satellites opening the door to global surveillance coverage by providing line-of-sight well beyond the limits of ground-based networks.
Multilateration (MLAT) – Surface Detection
Multilateration (MLAT) provides surveillance using existing transponder technology. It improves situational awareness where radar coverage is not available, supporting complex traffic flow management and safer, more efficient customer operations. MLAT is also used for airport surface surveillance, providing full coverage of runways, taxiways and terminal areas.
Multilateration – Wide Area Multilateration
Wide Area Multilateration (WAM) is a system of ground stations that receive signals from aircraft transponders to determine aircraft position. This information can then be used by an air traffic controller for SSR-equivalent surveillance and separation.
Radar
The air navigation system uses radar surveillance for airport, approach and area control. Two types of radar equipment are used. Primary Surveillance Radar (PSR) are typically installed near airports, while Secondary Surveillance Radar (SSR) are found everywhere. They are sometimes collocated.
Primary Surveillance Radar
A PSR locates and displays aircraft position (range and azimuth) based solely on the radio echo.
Secondary Surveillance Radar
An SSR interrogates an aircraft's transponder, which causes the transponder to send back an identification code or aircraft 'TAG'. The radar will display the 'TAG' and other information returned, along with the position, for the air traffic controller.
Airport Surface Detection Equipment
At some larger airports, surface aircraft and vehicle traffic are monitored during periods of reduced visibility using what is called an "Advanced Surface Movement Guidance and Control System A-SMGCS". The Ground Controller in the control tower monitors movements of aircraft and vehicles on a map display based on data from a high definition PSR. Runways, taxiways, building outlines and other obstacles are typically overlaid on the radar display. (NAV Canada, 2020)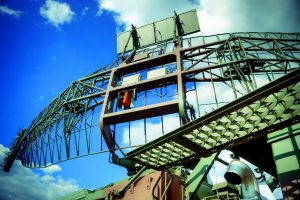 WHY DO WE NEED SURVEILLANCE?
Surveillance plays an important role in ATM. The ability to accurately determine, track and update the position of aircraft has a direct influence on the minimum distances by which aircraft must be separated (i.e. separation standards), and therefore on how efficiently a given airspace may be utilized.
Accurate surveillance can be used as the basis for automated alerting systems. The ability to accurately track aircraft enables ATC to be alerted when an aircraft is detected to deviate from its assigned altitude or route or when the future positions of two or more aircraft are predicted to fall below minimum acceptable separation standards. Alerts may also be provided when the aircraft strays below the minimum safe altitude or enters a restricted area. (ICAO, 2020)
---
For more information, visit one of the following WIKIFATCA pages:
Last Update: September 19, 2020
October 27, 2019 1105 superman
WIKI