Separation & Airspace Safety is a vast domain at the crossroad of many topics: separation standards, safety risks analysis, collision modelling, advanced mathematics and many more.
As far as Air Traffic Control is concerned, it normally starts with national authorities laying down vertical and horizontal separation standards to facilitate the safe navigation of aircraft in controlled airspace. Observance of these standards ensures safe separation from the ground, from other aircraft and from protected airspace. Separation standards may sometimes serve to reduce exposure to Wake Vortex Turbulence although there are many occurrences of significant wake vortex encounter at separations much greater than prevailing minimum separation.
National separation standards are based on the provisions of ICAO Doc 4444 (Procedures for Air Traffic Management), especially Chapter 5. Differences from these standards (if any) are published in national AIPs. The methods used to achieve separation are varied and complex, depending on the phase of flight and the relative trajectories of the aircraft involved (Skybrary, 2019), but they are generally classified in three categories: vertical, lateral, and longitudinal separation.
Separation can be achieved by distance or time reports and/or estimates (commonly referred to as procedural separation) or can be achieved through electronic means such as radar, ADS-B or multilateration (M-LAT) (commonly referred to as surveillance separation).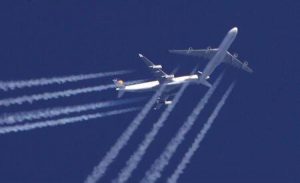 A SHORT HISTORY OF THE ICAO SEPARATION AND AIRSPACE SAFETY PANEL
With the advent of commercial turbo jet aircraft operating at high levels and the need to re-evaluate the vertical separation minimum used at that time, the Vertical Separation Panel (VSP) was created in 1954. Later on, the need to review other separation minima due to the fuel shortage in the 70s generated the need to expand the tasks of the Panel and in 1971 the Review of General Concept of Separation Panel (RGCSP) met for the first time. The Air Navigation Commission agreed in 2000 that the Review of the General Concept of Separation Panel (RGCSP) be changed to the Separation and Airspace Safety Panel (SASP). The Commission considered that the change of the panel would better reflect the broad scope of the panel's work programme and provided an appropriate emphasis on ICAO's primary objective to ensure airspace safety while improving efficiency of operations. (ICAO, 2014)
Separation Concept
In summary, is the concept of keeping an aircraft outside a minimum distance from another aircraft to reduce the risk of those aircraft colliding, as well as prevent accidents due to secondary factors, such as wake turbulence. Separation can also apply to terrain, obstacles, and controlled airspace, wherein an aircraft must stay at a minimum distance from a block of airspace.
Air traffic controllers apply rules, known as separation minima, to do this. Pairs of aircraft to which these rules have been successfully applied are said to be separated: the risk of these aircraft colliding is therefore remote. If separation is at risk of being lost between two aircraft, they are said to be in a conflict.
When an aircraft passes behind or follows another aircraft, wake turbulence minima are applied due to the effect of the wingtip vortices of the preceding aircraft on the following aircraft. These minima vary depending on the relative size of the two aircraft. This is acute on final approach with a smaller aircraft following larger aircraft. (Wikipedia, 2020)
What are ATC clearances for?
A clearance issued by ATC is predicated on known traffic. An ATC clearance means an authorization by ATC, for the purpose of preventing collision between known aircraft, for an aircraft to proceed under specified conditions within controlled airspace. The pilot-in-command of an aircraft is directly responsible for, and is the final authority as to, the operation of that aircraft. If ATC issues a clearance that would cause a pilot to deviate from a rule or regulation, or in the pilot's opinion, would place the aircraft in jeopardy, it is the pilot's responsibility to request an amended clearance.
Similarly, if a pilot prefers to follow a different course of action, such as make a 360 degree turn for spacing to follow traffic when established in a landing or approach sequence, land on a different runway, take off from a different intersection, take off from the threshold instead of an intersection, or delay operation, the pilot is expected to inform ATC accordingly. When the pilot requests a different course of action, however, the pilot is expected to cooperate so as to preclude disruption of traffic flow or creation of conflicting patterns. The pilot is also expected to use the appropriate aircraft call sign to acknowledge all ATC clearances, frequency changes, or advisory information. (FAA, 2020)
---
For more information, visit one of the following WIKIFATCA pages:
Last Update: January 28, 2022
October 27, 2019 1377 superman
WIKI