ATM Information Management is a domain highly critical for air traffic controllers, with new technologies, new protocols and procedures for data transmission, cybersecurity issues and automation, just to name a few, transforming the way information is managed within the ATM domain that we know today. Information management is one of the cornerstone of the ICAO Global Air Navigation Plan (GANP), and it is also at the centre of the realization of the vision established by the ICAO Global ATM Operational Concept (GATMOC).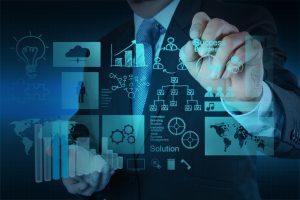 ATM INFORMATION MANAGEMENT encompasses everything from the concept of Flight and Flow Information for a Collaborative Environment (FF-ICE), to System Wide Information Management (SWIM) and to Trajectory-based Operations (TBO). The management of ATM information is a key enabler for future demands on airspace and airport capacity. ATM Information Management cannot function alone; it is therefore why the domain is closely link with ATM Operations, Aircraft Operations and system engineering.

What falls under ATM Information Management?
According to the Information Management Panel (IMP) and the ATM Requirements and Performance Panel (ATMRPP), the following areas of expertise are an integral part of ATM Information Management (ICAO, 2020):
The development of a global, harmonised and interoperable approach and the associated concepts, necessary to ensure an effective management of information, including identifying the need for new information exchange formats, on a system-wide basis within the Air Navigation System.
A global approach on Information Management, essential to ensure global interoperability and standardisation across all data domains and to support activities such as FF-ICE, the evolution of meteorology-related data towards digital information exchange and a NOTAM system appropriate to these new concepts.
The SWIM concept and its components (e.g. technical resources such as information models and associated exchange formats, service models, governance functions and structure etc.) as an integral part of ATM Information Management.
Information Management processes in the field of ATM, and the associated transition to national data domain specific systems ( Flight, Meteorology, Airport or AIS) to a cross data domain IM system, and the operational use of information supplied.
The definition and elaboration of ATM information management concepts, functions and processes required to provide accredited, quality-assured and timely information, required by actors within the air navigation system and used to support operations (including FF-ICE, digital meteorology information exchange and the modernization of the NOTAM system) on a system-wide basis, including avionics.
Service requirements necessary to maintain ATM information security, integrity, confidentiality and availability and to mitigate the risks of intentional disruption and/or changes to safety critical ATM information.
The Development of an ATM information service architecture.
---
For more information, visit one of the following WIKIFATCA pages:
Last Update: September 19, 2020
October 27, 2019 1798 superman
WIKI