Air traffic controllers are generally considered one of the working groups having to deal with a highly demanding job. In fact, air traffic control entails a complex set of tasks requiring very high levels of knowledge and expertise, as well as the practical application of specific skills pertaining to cognitive domains (e.g. spatial perception, information processing, logic reasoning, decision making), communicative aspects and human relations. (Costa, 1995) It is not surprising that so much attention is given to the Operational Environment in which ATCOs operate, as it has a direct impact on many facets of the job itself: safety, ergonomy, performance and stress management, inter alia.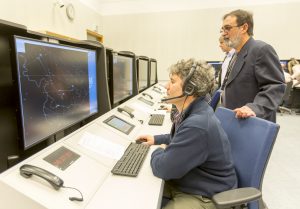 DEFINITION OF OPERATIONAL ENVIRONMENT
Costa (1995) identified five aspects of the operational environment that have a significant impact on the performance, behaviour and stress level of the air traffic controller. While the study was primarily targeting stress, these elements can be linked to other facets of the work and affect directly ATM operations:
External socio-economic environment
Legislation, international and national directives
Social support
Technology and work organization
Improving job planning and reliability of the work systems
Reduction of working times and arrangement of working teams and rest pauses in relation to the workload
Arrangement of shift schedules according to psycho-physiological and social criteria
Participation in decision making
Intervention in working place and task structure
Improving the work environment

Lighting
Noise
Microclimatic conditions and indoor air quality

Arranging workplaces according to ergonomic criteria

Workstation design
Working with visual displays units
Sitting postures
Intervention to improve individual responses and behaviour
Individual ways of coping with stress
Selection and training
Counselling and other supporting measures at company level
Specific intervention for health protection and promotion
Appropriate medical surveillance
(Source: Costa, G.: "Occupational stress and stress prevention in air traffic control." (Geneva, International Labour Office (ILO), 1995).
What falls under Operational Environment?
With such a large array of areas of interest, the Operational Environment domain is vast. As regards air traffic control, it encompasses inter alia the following aspects:
Professional and industrial relations;
Minimum service;
Single / Lone Person Operations (SPO);
Four Eyes Principle (4EP);
Performance Indicators;
Cognitive processes in ATC;
Working environments and ATC systems;
Automation / Human factors;
Duty rosters, work and rest schemes, vacation scheme, extra duty, extended duty and staffing
Remuneration principles, early retirement and retirement;
Regulatory framework in ATM.
---
For more information, visit one of the following WIKIFATCA pages:
Last Update: September 19, 2020
October 27, 2019 1060 superman
WIKI