41TH

ANNUAL CONFERENCE, Cancun, Mexico, 15-
19 April 2002
WP No. 111
8.33 kHz Horizontal Expansion
Presented by EVP Europe
Introduction
1.1.  After the initial implementation of 8.33 kHz, the horizontal expansion of 8.33 will include the airspace over 22 more states. Initially, 7 states are using 8.33kHz.
1.2.  IFATCA has a Policy on the introduction of 8.33 (Ref: 3243 4.3. 8.33 spacing).
Discussion
2.1 Setting the Scene
The 8.33 kHz Horizontal Expansion Programme (8.33 HEP) and the 8.33kHz Vertical Expansion Study (8.33 VES) have been approved respectively by ACG/9 and ACG/8. Actions identified for horizontal expansion will mirror those carried out in the original 8.33 kHz Implementation Programme. Experience gained during the Implementation Programme will greatly facilitate the Horizontal Expansion Programme.
The 8.33 kHz Horizontal Expansion Programme will ensure that the potential spectrum benefit of 8.33 kHz channel spacing implementation within the ICAO EUR Region can be fully realised.
In line with the ICAO EANPG/38Mandate, the 8.33kHz Vertical Expansion Study, carried out in conjunction with EANPG-FMG, will assess the need for vertical expansion of 8.33 kHz Airspace within the EUR Region.
---
2.2.  Lessons Learned from the Introduction of 8.33kHz in the core area
Eurocontrol has published a booklet on the lessons learned from the introduction of 8.33kHz.
---
2.3.  Area for HEP
The area concerned (See Annex).
---
2.4.  IFATCA involvement in HEP and VES
IFATCA will continue to monitor the development and keep informed those Member Associations concerned. Christoph Gilgen and Akos vander Plaat are working very hard on these matters.
---
2.5 RTF
At the recent EANPG 43, IFATCA opposed the proposed amendments to the SUPPS 7030 Doc with regard to RTF to be used. Currently IFATCA, together with Eurocontrol, IFALPA and IATA, are trying to find suitable solutions to a new RTF.
Conclusions
8.33kHz has been implemented. Plans exist for the Horizontal Expansion and a time schedule have been agreed upon and exemption will be lifted by October 2002. With regard to Vertical Expansion, there are currently studies being conducted to determine its feasibility. The decision has not yet been taken by ICAO.
Recommendations
This working paper be accepted as Information Material.
Annex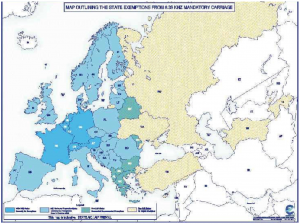 Last Update: September 29, 2020
March 14, 2020 529 Jean-Francois Lepage
2002